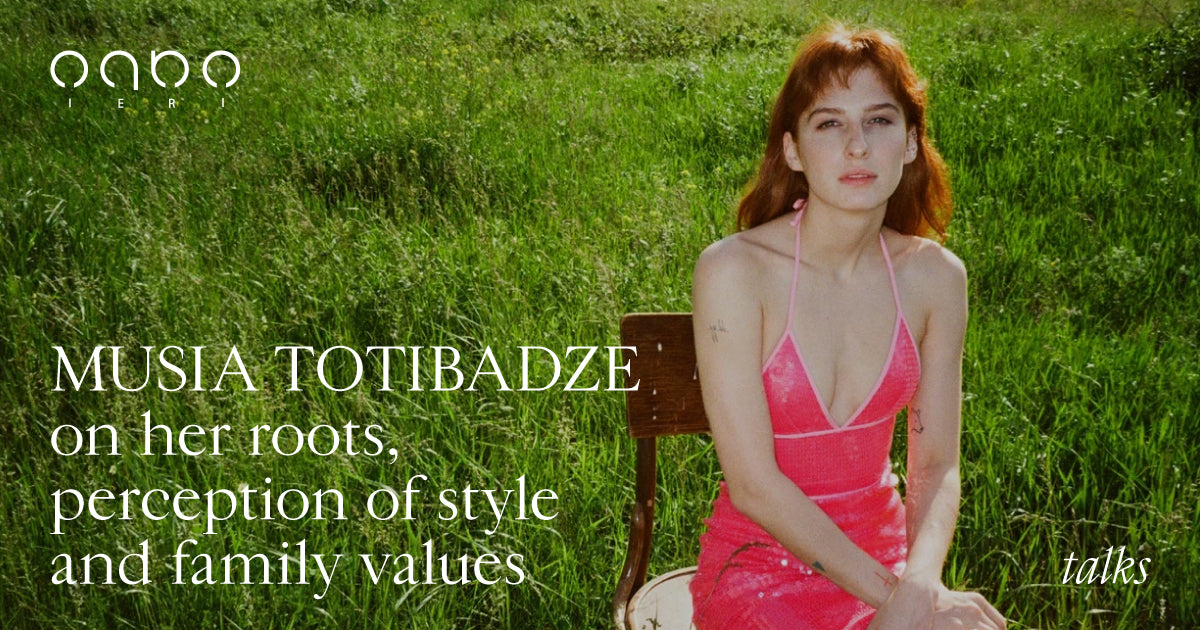 "Georgia is my secret source of power"
Musia Totibadze on her roots, perception of style and family values
Musia and I met in June, several months after she arrived to Tbilisi and a month before her first concert here. Our talk was very emotional. A young Georgian (actually Musia is half-Georgian and half-Russian from mother's side), who never lived in Georgia is searching for her place here. Our shooting was planned long before the interview. We wanted to do it as a guide to Musia's Tbilisi, but then, when we started brainstorming, we realized that the best possible location would be Art Villa Garikula, an art squat of Karaman Kutateladze, Musia's step-grandfather.Enjoy this vivid story of family ties, a tale of finding ones identity in Georgia and a beautiful woman enjoying the beautiful nature of her homeland.
Pink dress by David Koma
So, my great-grandpa was Apollon Kutateladze, famous Georgian artist. The Academy of Fine Arts carries his name today. His wife, my great-grandmother Maria, or how everyone called her — Musia, was an actress. Musia's mother was a maid of honor of Alexandra Fedorovna. They got acquainted when Apollon was searching for a model for his drawings. This portrait is still at our place. And my dad often makes a joke, that Apollon paid great attention to her face on the painting, but the rest is smudged, as if it didn't matter at all. They moved to Tbilisi together and had two daughters together. But their family life was not that easy . They got divorced. And Apollon married Miriell Zdanevich, daughter of Kirill Zdanevich. Their son Karaman is my step-grandfather. My family tree is a complicated one.
A ceiling in the big hall of the Academy of Fine Arts is hand-painted with portraits of famous people, who devoted their lives to the Academy. Among them there is a portrait of Apollon Kutateladze
My grandmother Nana, daughter of Apollon and Musia, got married to Gogi Totibadze, a famous Georgian painter. They got three kids together, my dad among them. After divorce Nana moved to Moscow. I believe, I look very much like my grandmother Nana.
My first ever visit to Georgia was in 2009 after the war. Too late, I believe, should have come earlier, but that's how my parents decided. It was me, my dad, my uncle Gogi, my sister Nana, my brother Anton. We met my dad's mamida, visited our friends and family, and had so much fun. We were laughing and hugging constantly, drinking and singing. Georgian style, but you know what? It was not a feast of nonchalance, it was a very hard-won fun. What did I know about life? I was a child back then, 13 years old, but still I could feel this hidden sadness that my family was trying to disguise. Whatever happened in 2008 was painful for them, but that's so Georgian — have fun even if you are in pain. I met my cousins for the first time and I remember sitting with them on a roof-top and chatting. Best memories.

Coming to the Academy of Fine Arts or to the Georgian Museum of Fine Arts and seeing the painting of my great-grandfather is so emotional. I know that I have nothing to do with his achievements, but at the same time, knowing that his blood cells are inside me, is priceless.
Apollon Kutateladze — "Tamara's campaign"
I wish I could speak Georgian. My dad and my uncle Gogi used Georgian as a secret language, which we couldn't understand. Every day I sarcastically tell my dad "thank you" for that. And now I am learning it. People see me as Georgian, they constantly start speaking in Georgian with me, and that's vitally important for me. In the university in Moscow, I always felt I was special, because of my Georgian roots. Even the fact that my mother is Russian didn't mean anything, in Russia I have always been seen as 100% Georgian. But it was my secret source of power and inner strength. Funny to notice that here, in Georgia, I'm challenging myself to feel that. Sometimes people deny my right to be Georgian because I don't speak the language, but I know that I shall overcome it. I feel a very tight connection to my Georgian roots and find it important to actually be able to speak Georgian well.
Sungless by Keburia
Jacket, top and trousers by The Naunes
Shoes by Zarqua Collection
We were raised in the paradigm of happiness and hedonism, and I should say that this vivacity comes from my Georgian part of the family. Even my love to music, I think, comes from my Georgian side. However, the circumstances of the past months have proven that traits of the character cannot be nationalized…

My perception of Georgia has always been very unreal — a feast and an endless holiday. A fairy tale in real life. Today I see how hard life is for many people, and how unknown this dramatical side of the country has been to me. I am now getting to learn and see Georgia not through the eyes of a 13-year-old coming for a holiday but as a mature person planning my life here. The Georgia I remember no longer exists, I think. And maybe never existed. But this dramatical side is also very beautiful. And it's more real. Now after the first layer of illusions has vanished, I am getting acquainted with the country as it is. For the past months all of my being is tethered to these new shades and feelings.
Dress by Aleksandre Akhalkatsishvili
Shoes by Anouki
I love traditions, I love Georgian supras. Do young people have traditional supras in Tbillisi now? Just sitting and talking? Maybe singing? I see them in bars mostly. I sound like a grumpy old lady, but that's how I feel. They say, Tbilisi was about relationships. Do we still remember it? I would love to keep this tradition of supras and talking to each other at the table in my family.

I was a child, when my dad first turned on a song "Zamtaria" by Cisperi Trio. It makes me want to cry every time I hear it. I love the music and the words. And this is how I want to develop — make art with both words and music. Georgian romances are my big love and my dream is to find a new way to sing them and bring them back to life.

I believe that words and lyrics matter so much! So many artists don't pay attention to lyrics focusing on music or sounds, but I see this part of my work as crucial. We are now reading Ana Kalandadze's poems with my teacher, and you know what, it's genius. In one of my plays I sing this song called "Cisperi Kesanebi" by Trio Simi. I don't think it is possible to translate the lyrics to any other language and keep the same nerve and preserve same meaning as it has in Georgian. I would love to be able to create this vivid imagery myself one day.
In Georgia you are always a child of your parents, carrying their name proudly and fulfilling obligations imposed on you by that name. My dad once told me that respecting the roots is important, but I should not become a hostage of my own family name. Just live my life and be myself. And I always lived that way. With respect, but my way. But this feeling of belonging to a big family and carrying the name proudly means a lot, actually. Some time ago I went to the Academy of Fine Arts and saw this memorial sign about my great-grandfather. And you know what? I had goosebumps and shivers all over my body. After that I came to visit Karaman (Kutateladze — ed.) once at his studio behind the Tumanishvili Theatre. I felt lost. He looked at me and shouted: "Do you know who you are? This is your country. Your people. Your homeland". He inspired me and I literally felt it. It gave me strength. I hope I will overcome my impostor syndrome soon and can carry the name even more proudly.

We never supported nepotism in our family, my dad never got any protection neither from his father nor from his grandfather when passing exams to the Academy. And it's right, I think.
Khevsurian jacket by Samoseli Pirveli
Jeans by Anouki

In 2018 I came to Georgia for a long time as an adult already. And I remember myself crying on the top of the mountains, by the river, seeing a flower — everywhere we went. I don't know why, but my senses sharpened. And I always dreamed of the experience of living in Georgia, meeting people , making music here and creating something fantastic together. I felt so proud of being half-Georgian. I am also made of this air and this water. Now I feel a little bit like an alien here, but I kind of enjoy this feeling anyway. I am very proud of my Georgian identity, but what I learnt is that every person is a lot more than just his country or territorial borders, and it is really awesome to know and feel this.
1:
Earrings by Liya
Top and culottes by Keburia
2:
Necklace by Situationist
The Georgian style for me is my grandmother Nana. She was so beautiful. I remember her wearing a black velvet choker necklace all the time, having her hair done in the best way. She looked timeless, though I think it's very Georgian. I am not good at fashion, but I love this Georgian fusion of heritage and contemporary. So stylish and free. I want to exude this feeling of freedom through my style.
Earrings by Eshvi
T-shirt by Muzaradi

Talent shooting: Musia Totibadze
Crew:
Styling and creative direction: Gosha Kartsev
Producer: Anako Chkhenkeli
Present at the shooting: Katerina Aktavina
Photographer assistant: Artur Motolyanets
Taking care of Musia: Natia Lataria